Four East Wake High School teachers recently got their just desserts.
Before the Christmas break, EWHS teachers and staff met in the south campus cafeteria for a time of holiday fellowship and to partake of a spread of chicken, fixin's and homemade desserts. But the meal was sweetened for four teachers who learned they were recipients of the Wake Education Partnership Food for Thought grants.
Principal Dr. Gus Martin said the awards could have been unveiled earlier, but he wanted to wait so the big announcement could be made at the staff gathering.
Cathy McCluskey, Ann May, Luanne Brown, and Robin Ley said they were elated their grant applications were given the green light.
McCluskey said she will use her funds to teach the many ways papers can be recycled. She said her AP chemistry students will also team up with fifth-graders from Lockhart Elementary "to lead them on recycling paper activities."
Biology teacher May said her grant, titled "Wanted, Plants that Grow Upside Down," will teach her students how to screen for and document mutant plant species. Funds will be used to purchase "grow chambers," and students will take pictures "to document what they have found."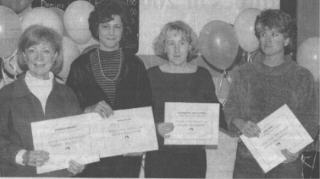 Brown said her Food for Thought grant application involved going beyond the walls of East Wake to document life in the community. "What's Cool Outside of School" will allow her students to take pictures and obtain quotes from their friends about activities away from campus. A laser printer will be purchased and booklets made, she added.
Ley said she will use the grant funds to assist her students in making their career portfolios. Since students have to select their "career path" in high school, she said, putting together a portfolio will allow them to concentrate more on what they would like to do once they graduate.
Wake Education Partnership representative Cynthia Chamblee and parent liaison Debbie Marshburn were on hand to make the presentations to the teachers. They presented each one with a balloon bouquet, a gift certificate and a disposable camera to document the progress of the grants.